Tinubu Thought He Is Wiser Than Buhari — Adebanjo
Adebanjo says Tinubu Thought He Is Wiser Than Buhari
The leader of pan-Yoruba socio-political group, Afenifere, Chief Ayo Adebanjo, is not particularly in good terms with the National Leader of the All Progressives Congress (APC), Bola Tinubu, particularly for his roles in Buhari's victories in the last two presidential elections.
Adebanjo who couldn't hide his anger against Tinubu whom he accused of using his influential power to sell out the Yoruba race for his personal benefit, previously said Tinubu does not deserve the presidency, and shuts down any attempt at trying to convince him to support the APC leader.
Don't come and campaign to me about Tinubu. You cannot change my mind on that," was his response when asked during an interview with New Telegraph, whether Tinubu is still relevant many years after leaving office as Governor of Lagos state, and whether he is the most qualified for the office of the president from the South West.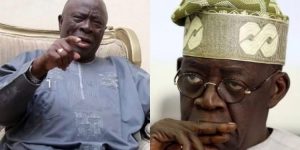 It has been public knowledge, that Tinubu is expected to succeed Buhari who bows out of office in 2023. This belief is based on an alleged secret deal where Buhari agrees to support Tinubu's presidential ambition at the end of his 8 years term in office.
However, having enjoyed Tinubu's support, and his reign gradually coming to an end, Buhari has had a change of tone, and is believed to be unwilling to honor whatever that agreement between him and Tinubu was about.
According to a recent report by Sahara Reporters, Buhari has indeed abandoned Tinubu and would rather pitch tent with his former political rival and opponent in the 2015 presidential election.
The report claimed that last Thursday's closed door meeting between president Muhammadu Buhari and Goodluck Jonathan, was about convincing Jonathan to contest for the 2023 election under the APC, with the full assurances and support of the president and the North.
The report which cited 'a reliable source', claimed that the decision to favor a Jonathan presidency is based on the premise that the former president has only one term to complete, after which power will return back to the North for another 8 years by 2027.
Should this report turn out to be true, it shows clearly, that Tinubu has indeed, been abandoned by the president and the North he hoped would consider his sacrifices to help Buhari achieve his ambition.
But Adebanjo on his part, has no kind words for a troubled Tinubu, by accusing Tinubu of being consumed by his ambition to rule the country, that he failed to see the handwriting on the wall.
"Buhari knows that he is deceiving Tinubu except that Tinubu doesn't know or is stupid not to know. He has become so paranoid of becoming president that he couldn't see the handwriting on the wall," Adebanjo said.
He said Tinubu's betrayal of the Southwest is a grave offense which can only be forgiven if Tinubu repents.
"People have asked me if I have forgiven him, how can we be talking of that,when he is not doing the right thing? I have been condemning him for being in alliance with Buhari. He is the cause of all the problems we have in this country. If he did not have an alliance with Buhari, we will not be in this situtation."