See How Lai Mohammed Celebrates Trump's Support Of Buhari's Illegal Twitter Ban
A reports reaching us how Lai Mohammed Celebrates Trump's Support Of Buhari's Illegal Twitter Ban
Minister of information and culture, Lai Mohammed has hailed the endorsement of the federal government's ban of Twitter in Nigeria by former American President Donald Trump.
Read Also: VIDEO: 'I Killed TB Joshua, Kwaku Bonsam Reveals, Gives Reason
The Nigerian government had on June 4, banned Twitter, blocking citizens' access to the micro-blogging platform after Mr Buhari's tweet, deemed a threat to commit genocide in the fashion of the civil war genocide against the South-East people was deleted by Twitter.
Though Mr Buhari's action has been widely condemned by both local and international media across the globe, Mr Trump, who was banned from the micro-blogging site for his unguarded statements at the twilight of his administration, commended Mr Buhari for banning Twitter in Nigeria.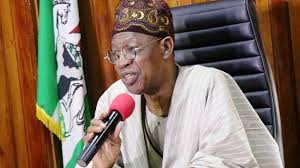 "Congratulations to the country of Nigeria, who just banned Twitter because they banned their President," Mr Trump said in a statement Tuesday night.
In a Channels TV video posted on Twitter on Wednesday, Mr Mohammed spoke pleasantly of the endorsement by Mr Trump.
"Donald Trump has congratulated Nigeria," Mr Mohammed said. "If that means anything, that that is what we ought to have done. But that's just by the way."
Twitter ban is the latest attack on the freedom of expression in Nigeria by the Buhari regime, which has been characterised by gross human rights abuses.
In a bid to gag free speech, the Buhari regime has been scheming to promulgate an obnoxious social media Bill but has been opposed by Nigerians
Lai Mohammed Celebrates Trump's Support